Ido Gidron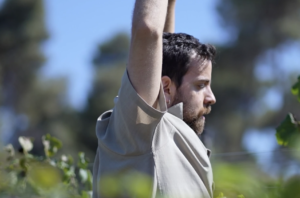 Ido Gidron is a performance artist, dancer, choreographer, and certified Gaga instructor base Te Aviv, IsraIiI.
He was born and raised in the mountains of Jerusalem, at Shoresh. He began his dance training in high school at The Jerusalem Academy for Music and Dance and continued in Batsheva Dance Company's Excellence Program for Outstanding Dance Students (2011-2013). When he was 17, Ido traveled to New York City to participate in The Julliard School of Dance Summer Intensive.
After graduating high school, Ido joined the IDF.  He was awarded the title of "Outstanding Dancer", a privilege that allowed him to continue dancing and training throughout his army service. Ido went on to dance for Kibbutz Contemporary Dance Company II (2013-2014), under artistic director Rami Be'er.  While dancing at the Kibbutz, Ido created and performed the piece Run in collaboration with Maya Michlal-Gelfand's ensemble.
In 2014, Ido was accepted to the Batsheva Ensemble, Batsheva Dance Company's Young Company, and danced there for 3 years.  During his time in Batsheva, Ido performed pieces by Ohad Naharin, Sharon Eyal, and Danielle Agami.
Ido is a certified teacher of Gaga, the movement language developed by Ohad Naharin, He teaches classes for dancers, and People. He is teaching open classes in Tel Aviv and leading workshops of Ohad Naharin's repertoire around the world.
In November 2017, Ido performed as a guest dancer with the Norwegian National Ballet in the production "Minus 16" by Ohad Naharin.  Ido is a guest teacher for the company Cie Toula Limnaios in Berlin, and has taught in Fabrik Potsdam, Germany, at the Institut Za Umetničku Igru in Belgrade, Serbia, at PERA School of Performing Arts GAU in Kyrenia, Cyprus, and at Absalon in Copenhagen, Denmark.
Under the platform of Batsheva Ensemble Dancers Create, Ido had the opportunity to create three different pieces: Room No.1, Heroes of the Red Wine, and, most recently, Dualism. In 2017, Dualism won 3rd prize in the Machol Shalem Choreography Competition in Jerusalem, and in March 2018 the piece was performed at the Lucky Trimmer Dance Festival in Berlin.
Today, Ido is staging his own work, together with the Gaga language as a base for creation. He works with the independent choreographer Idan Sharabi and stages Ohad Naharin's repertoire on many groups of dancers around the world.